Blown-arc™ Series Plasma Treater
Improve surface wettability & adhesion on non-conductive surfaces with with Blown-arc™ plasma treatment.
Enercon's Blown-arc Plasma Technology delivers highly effective treatment for non-conductive surfaces prior to bonding with inks, coatings, & adhesives.
Enercon plasma treaters bombard surfaces with a high speed discharge of ions to clean, etch and functionalize surfaces. Its wide treatment path works well on a variety of surfaces. Models are available with either one or two treatment heads in both standard and Pro Series configurations.
Intuitive touch screen control guides operators
Fully Independent head control & monitoring
Remote control & monitoring
Plasma Integrity Monitoring
Monitors & records key system data points to ensure repeatable operation
Advanced diagnostics & Fault Log
HMI Membrane with push button control and LED Indicators
Selectable Independent Head Control
Blown-arc™ Specifications
Width
Height
Depth
Weight
Voltage
Single Head Cabinet
20"
13"
18.5"
60 lbs.
120V, 7 Amps 208V, 5 Amps 240V, 3.5 Amps
Dual Head Cabinet
20"
13"
18.5"
70 lbs.
120V, 7 Amps 208V, 5 Amps 240V, 3.5 Amps
Enercon systems are designed to operate in a maximum ambient temperature of 40°C (104°F) @ 80% relative humidity, non-condensing.
KEY FEATURES
For Successful Surface Treatment
Compact Footprint

Fully enclosed stainless steel body construction for industrial environments.

Easy Set-Up

Intelligent Universal voltage 120v/208-240v
Standard compressed air
Custom engineered shielded cable for maximum flexibility & durability
Enercon Blown-arc™ Head with Custom Cable
Easily mounted in any configuration
Quick start set up guide

Reliable Industrial Design

Internally mounted, oil free, air cooled transformer
Rated for 24/7 Industrial use
Self protective circuitry
Virtually no maintenance, no moving parts
IP 52 enclosure

USB Data Drive

Download system data
Upload software updates
TREATER OPTIONS
Plasma Treating Production
Mounting Collar
Non-conductive collar to ease your mounting process.
Mounting Stand
Mounting Stand with Bracket and Collar; Height Adjustable.
Mobile Cart
Movable mounting stand with Bracket and Collar.
Universal Mounting Bracket
Offers flexibility for mounting treatment head precisely where you need it.
Flexible options for your operation:
Remote Transformer
A Remote Transformer Box is required for head assemblies exceeding 18 ft from the power supply.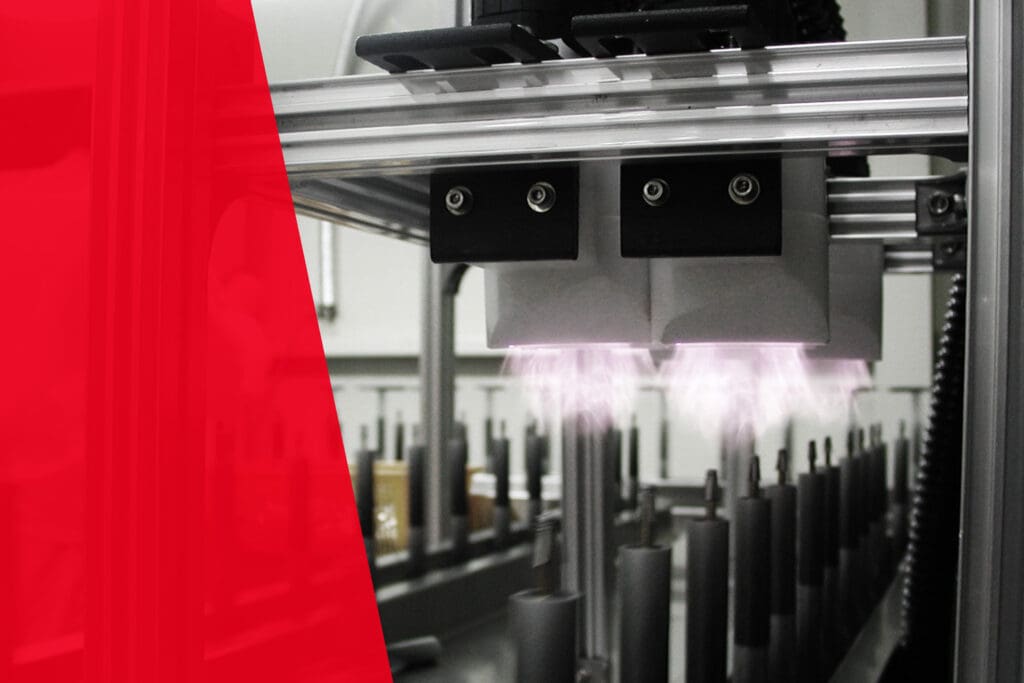 Discharge Nozzle Assembly
Spare assembly for easy replacement of electrodes or nozzle in the field. Assembly includes two stainless steel electrodes and ceramic nozzle.
Easily alerts operators of operating status from a distance.
Be sure your system always has backup parts. Special discounts when purchased with system.
Connect directly to your line with a stationary floor mount, a flexible mobile cart, or mount robotically.