Nature's Way: Good for You and the Environment
Nature's Way is fulfilling its mission of "Paving the way to wellness" with innovative new packaging that is made from 97% post-consumable recycled plastics. As a leader in the fast growing herbal supplement industry it was important for the company's packaging to stand out on the retail shelf and, naturally, do its part for the environment.
With the help of Tricor Braun, Nature's Way developed a new package that stands out on crowded store shelves in more ways than one. First, the container features a unique square design making it stand out against standard round bottles offered by their competitors. Secondly, the product is made from recycled plastic milk jugs. Most significantly, Nature's Way expects to save an astonishing 350 tons of plastic every year by using the new package.
"We wanted a product that people not only stand behind for what's inside the bottle, but also for the bottle itself."
Dan Countryman, Brand Manager at Nature's Way
Safe & Fresh with Induction Sealing
While health, quality and the environment are important to the company, Nature's Way also realizes the importance of product safety. Their bottles must be sealed to ensure they arrive safe and fresh for the consumer. That's why Enercon Induction Sealers are the natural choice. Not only does the hermetic seal created by the Enercon Super Seal™ meet the FDA's Code of Federal Regulation (CFR) for tamper evidence, but the system itself offers Nature's Way a host of other benefits while matching the company's core values in health, quality, safety and the environment. Enercon's advanced electrical architecture and innovative sealing head designs make them the most energy efficient induction sealer in the industry.
Nature's Way owns 6 Enercon Super Seal™ sealers in which 5 have been in use for over a decade. "We love that our Enercon sealers are standardized and can handle multiple types of bottles," says Nate Sengstock – the Operations Manager of Nature's Way. "It's quite a universal piece of equipment." They use the Super Seal™ 100 with All-in-One™ sealing head to seal the new square bottles in a variety of sizes and caps.
Throughout the years of owning Enercon systems, Nate admits that he has not had to use much of Enercon's technical support. "The Enercon runs so well that we haven't needed too much support; but we know that if issues do arise, Enercon is very prompt and timely to give us all the help we need." Additional support comes from Enercon's comprehensive library of webinars, how-to-articles, infographics and technical resources to assist customers with applications and best practices for installation, operation and maintenance.
The company continues to use Enercon as they expand operations. Their next induction sealer will be a Super Seal™ Touch for a liquid line in their new facility in Green Bay.
The Super Seal™ Touch is controlled through an easy-to-use touchscreen that unleashes a host of features to make operations more productive.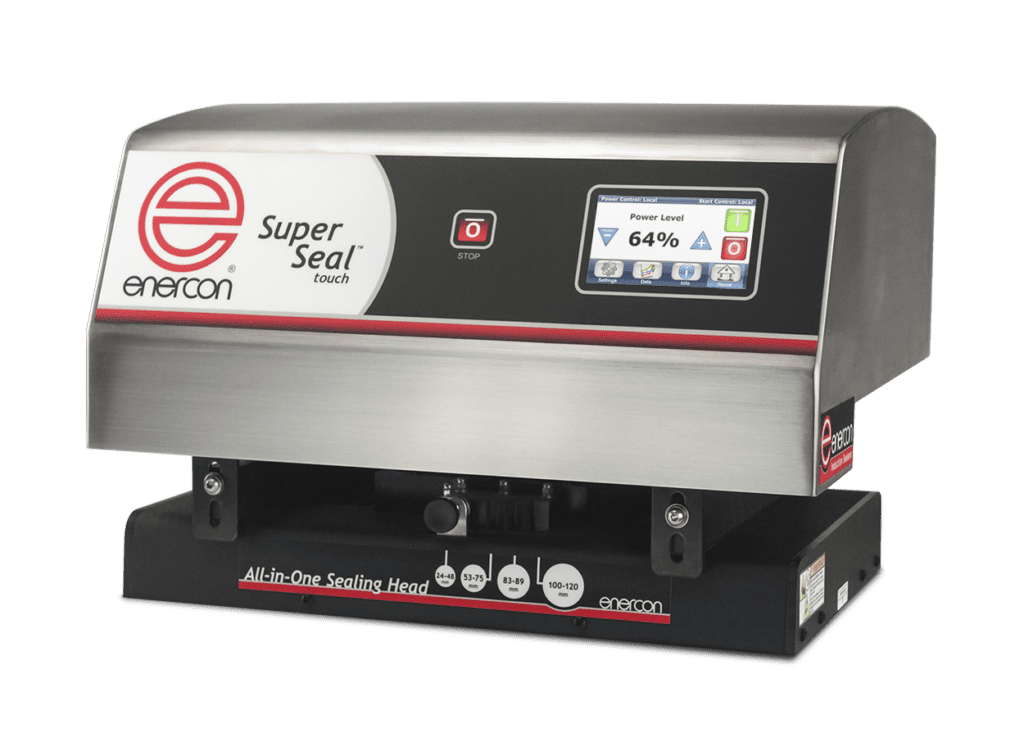 Nature's Way is clearly a pioneer in the health industry with over 1,000 supplement products and breakthrough packaging. Embracing the values of wisdom, integrity, authenticity and inclusivity, Nature's Way turns to nature to find and further a better way to wellness. "We're on a continued mission to forward innovations that promote ancient health practices, connect with nature, and encourage everyone – from every farmer, herbalist, employee and individual – to live their best life. This is how we pave the way to wellness."
FROM OUR LIBRARY
Learn More About Cap Sealing