Cap Sealing for Mail Order Pharmaceuticals Ensures Product Quality & Tamper Evidence
"Understand the problem." This has been Innovation's company motto since it was founded by Harry Boyer in 1972. Boyer believed that fully defining a problem to the greatest extent would be the best foundation for finding the right solution. Guided by this principle, Innovation is recognized as an industry leading solutions integrator for automated pharmaceutical operations.
Innovation is located at a 91,000 square foot campus in Johnson City, NY and focuses on pharmacy automation for the retail pharmacy industry. They create amazing solutions where prescription orders are accurately, efficiently and automatically fulfilled and packaged using integrated robotics uniquely designed to meet each of their customer's needs.
Their latest project is a Consolidated Mail Outpatient Pharmacy (CMOP) for the Department of Veterans Affairs. For this project, the company added Enercon Induction Cap Sealers to ensure product quality and provide tamper evidence.
Induction Sealing Increases Quality & Safety
"The introduction of induction sealers to our product line has allowed us to increase the quality and safety of mail order prescription medications filled by our systems," says Alecia Lashier the VP of Solutions Engineering at Innovation. "We are now able to reduce damage during the shipping process by containing filled medications in a prescription bottle, even if the bottle cap is damaged or removed."
Enercon sealers also provide Innovation with the opportunity to apply different types of prescription bottle caps, which previously could not be sent through the mail, making prescriptions easier to open for patients.
Innovation is unique in that it does not transport bottles in a carrier container across a conveyor. Instead, bottles are transported directly on the conveyor belt. While this method significantly reduces the conveyor footprint, it presents challenges. For this particular CMOP project, the prescription bottles were two different heights that were conveyed down the same line. The Problem: Automation units, such as the induction sealers, require the different sized bottles to pass through at exact heights; and these bottles must achieve good seals.
With this new problem, Innovation needed to get a complete grasp of the situation before identifying a solution. "On every project, we analyze the specific needs of a program through inspection, data analysis, and simulation. Only once we truly understand the customer's problem, do we look to find a solution." During the solution development process, Innovation looks to add both innovation and intelligence on top of standard industry offerings. This may result in adaptations of the existing product line, the introduction of new products, or even new uses of industry products to meet the unique needs of customers.
To us, we don't choose vendors but rather partners who understand our desire to innovate. Enercon has done just that.
Alecia Lashier, VP of Solutions Engineering at Innovation
Enercon Sales Manager Jim Phillips was able to brainstorm with Innovation to find the right solution. "Working together with our partners, we have been able to overcome these challenges by thinking outside the box," says Lashier.
The Solution: On Innovation's three separate CMOP lines, they integrated two Super Seal™ Touch Cap Sealers per line and configured each sealer to handle a specific height. The outcome allowed Innovation to continue to transport bottles on a single line and present them to the sealing units at different heights.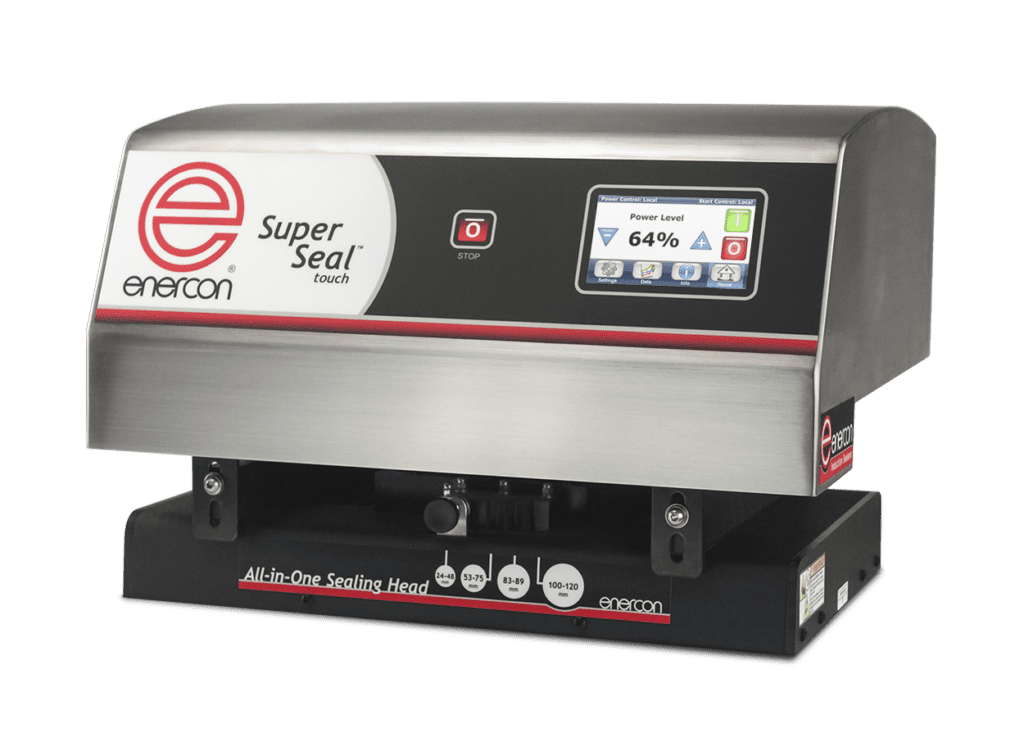 "Jim Phillips of Enercon was very helpful and went out of his way to test samples." Since this project was so unique, Enercon completed several sample runs based on the parameters provided to determine the best sealing heads for sealing two different height bottles at the same time. The end result was a wide, deep tunnel for the shorter bottles and a wide tunnel for the taller bottles. Thus, they achieved a perfect seal on all bottles.
Innovation is a recognized leader in the world of automated prescription dispensing and they continually adopt new technologies, like induction sealers, to maximize performance. Their solutions are expandable from small retail pharmacies to large pharmacies with mail order/refill facilities across North America.
FROM OUR LIBRARY
Learn More About Cap Sealing