17 Year Old Enercon Cap Sealer Stands the Test of Time at Lasco Foods
What does it take to be successful in business for over 100 years? At Lasco Foods in St Louis, Missouri success is a result of evolving your offerings with industry needs and making smart choices when it comes to investing in packaging equipment.
Since its inception in 1901, Lasco Foods' packaging capabilities for food service and retail markets have diversified. Today wet product packaging includes barbecue sauces, salad dressings, pasta sauces, and liquid beverage mixes. Dry product packaging capabilities are offered for seasonings, rice, and an assortment of gravy, tea, cocktail and beverage mixes.
According to Vic Gilpin, VP Operations, the company's facility is filled with packaging equipment ranging from new to ancient. Throughout the plant there are a few "ancient" pieces of equipment which perform as reliably today as they did when they were first installed. A seventeen year old Enercon induction cap sealer is one of those unique pieces equipment.
Induction sealer technology then and now
The Enercon Compak™ system is used to hermetically seal a wide variety HPDE and PET containers with various cap sizes. Lasco relies on induction heat sealing to "provide safety with tamper evidence, preserve product freshness and prevent leaks," says Gilpin. All critical features for products being delivered through food service supply chains and retail distribution.
Older induction sealers such as the Compak™ have three main components; a power supply, sealing head and water recirculating system. When energized by the power supply, the sealing head produces an electromagnetic current, called an eddy current. Capped bottles with an innerseal liner are conveyed through the electromagnetic current and the metal foil generates electrical resistance, which heats the foil. The hot foil in turn melts the polymer coating on the underside of the innerseal. The heat, coupled with the pressure of the cap, causes the innerseal to bond to the lip of the container. The result is a hermetic seal.
Vintage induction sealers are water cooled and require a water recirculator to prevent the sealing head from overheating. This system feature requires Lasco to perform routine maintenance on the unit. It's a maintenance effort which has paid dividends as evidenced by the sealer's excellent condition seventeen years after installation. In fact, the Enercon sealer was recently sent in for service and the only malady found was a potentiometer which needed to be replaced.
Gilpin says he's been impressed by the durability of the Enercon unit, and the company's customer service responsiveness. Lasco has also added a new Enercon Super Seal™ Touch induction cap sealer as part of a new dedicated line for contract packaging beverage mixes. The new cap sealer features an intuitive touch screen interface, high efficiency sealing head, more available sealing power and eliminates the need for a water recirculator. Gilpin says "the Super Seal™ Touch requires virtually zero maintenance."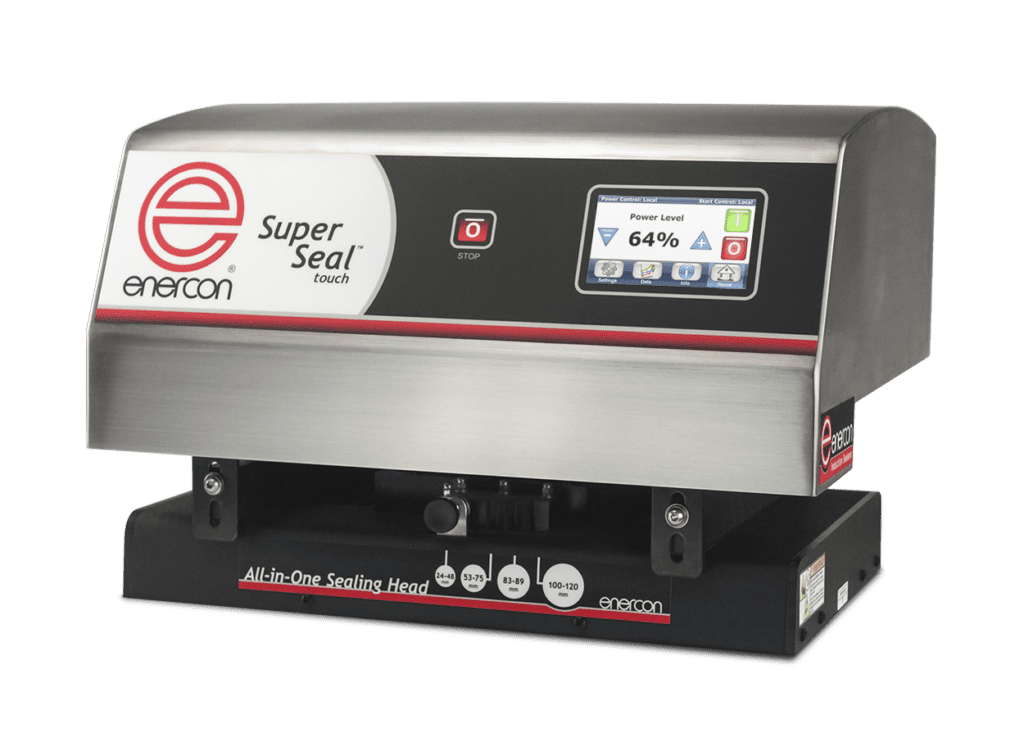 Knowledge is Key to Efficiency
Having a mix of new and old equipment Gilpin recognizes packaging efficiency can be directly affected by his operators' knowledge of the equipment and processes. Yet another reason Gilpin enjoys working with Enercon. "We take advantage of Enercon's detailed system manuals and on-line webinar training to ensure our operators maximize our line efficiencies."
Enercon President Ryan Schuelke says, "Enercon's made a commitment to educating our customers. Its important that they not only know how to operate the equipment, but to also understand the induction sealing process and variables that can affect their success."
Gilpin says Lasco Foods has continued to remain a leader for more than a century by making smart packaging investments with companies like Enercon who make their operations more profitable. "The equipment reliability, remarkable customer support and additional education Enercon offers to us is key to our success," notes Gilpin.
Meanwhile business continues to grow for the Lasco team. "Our location in the center of the United States provides a great shipping advantage for our customers, so we're constantly asked if we can accommodate new packaging requirements for them. If we don't have the right technology we'll go out and get it," says Gilpin. As for induction sealing Lasco is already well equipped because of a smart choice seventeen years ago when they chose Enercon as a partner.
FROM OUR LIBRARY
Learn More About Cap Sealing